Candye Kane
's incredible voice has dominated my personal play list for several years. Whenever she came to town, I was always there, front and center to get a good hearty listen. She can jump from blues, to country, to rock and roll... There are no limits to what Candye can do as a singer, songwriter, champion activist of civil, queer and fat rights and an adult entertainment super star. You can guarantee that come hell or high water, I will be there to witness her powerful performance, the next time I here of her jumping on a nearby stage.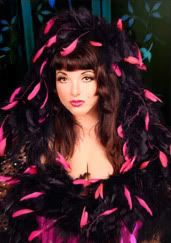 Once she performed a sold-out show at the old
Center for Sex and Culture
, without a mic. It was just her and her pianist,
Sue Palmer
and the audience. Her voice carried throughout the center and out the 3rd story windows, down onto Harrison Street. People on the street could hear her voice ring out.

And, it's not just her tits out approach to singing, it's her way of life, her songwriting, the way she is so down home and genuine with every person in her path. Her heart is always out, being given and shared, in love with her fans, and ready to accept their love.

I have a lot of admiration for
Candye
and how much she gives to so many every day. Her songs are an inspiration to me, and my former burlesque troupe,
Fat Bottom Revue
used several of her songs for our routines.
As soon as I told
Candye
that I was starting my show on
Pirate Cat Radio
, she said she wanted to be a guest on the show. I am so glad that we were able to coordinate this interview with her busy schedule. I appreciate her taking the time to talk with me, and give me an opportunity to showcase her songs, and songs in my collection that make me think of
Candye
, and my love for her. Thank you!!
Play List for September 1st
(song from Lilycat's set - her show is from 12-2)


You Need A Great Big Woman: Candye Kane (
Diva La Grande
)
Bumble Bee: Big Mama Thornton
Sweet Dreams: Patsy Cline (12 Greatest Hits)
Play Girl: Big Sandy and the Fly Rite Boys (Radio Favorites)
Who Do You Love: Bo Diddley (The Definitive Collection)
Big Mama Candye's Blues: Candye Kane (
Home Cookin'
)
Nasty Gal:
Betty Davis
(Nasty Gal)
How Come You Do Me: The Cramps (Flame Job)
It's All Your Fault: The Blasters (Hootenanny comp)
I Am My Own Worst Enemy: Candye Kane (
Guitar'd and Feathered
)
Don't Mess With The Messer: Koko Taylor (self-titled, Chess)
Don't Leave Leavin' Up To Me: Liz Anderson (Husband Hunting)

Interview with
Candye Kane


Good Hearted Woman: Waylon Jennings & Willie Nelson - LIVE (Waylon Jennings' Greatest Hits)
I'm The Toughest Girl Alive: Candye Kane (
Toughest Girl Alive
)
All Over Again: Johnny Cash (7" Columbia Records)
Take A Look At Your Neighbor:
Dale Watson
(I Hate These Songs)
Masturbation Blues: Candye Kane (
White Trash Girl
)
Tune in September 8th for my interview with The Princess of Hollywood,
Princess Farhana (Pleasant Gehman)