The Lair of Lady Monster went into Extended Play yesterday.
Baghdad By The Bay went to Burning Man, so I was able to extend my show to three hours.

I had two guests: local band My Last Day On Earth and the gorgeous, amazing, legendary porn star and sex educator, Nina Hartley.

My Last Day On Earth stopped by before progressing to their gig at Thee Parkside in San Francisco. They brought us some tunes, including tunes that inspire them. Check out their MySpace page and find when they are playing next. I will be continuing to play tracks from this CD. Thanks so much guys for coming by, spending time in the Lair and rocking out.

I interviewed Nina Hartley to help promote her new book, "Nina Hartley's Guide To TOTAL SEX." This guide provides many tips and information about all you would ever need to know about sex, and having a fulfilling sex life.

Margaret Cho says,
Truly amazing . . . I honestly think it is the best book written about sex, ever.

I have been a fan on Nina Hartley's for many years, and have had the pleasure of seeing her perform in a variety of capacities. I first met her when I still lived in Ohio, she was on tour in 2000. I can still see the ripples of her behind shimmying and flowing like a waterfall when she did a booty clap.

Here is a picture of Nina and I together that night.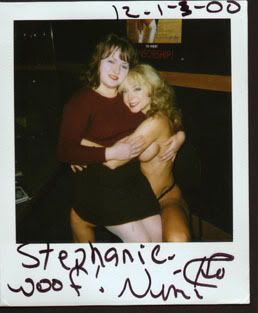 She gave me her phone number. So once I came to San Francisco, I contacted her for an interview. I was writing for MK Magazine at the time. During the interview she invited me to a Queen of Heaven party (which I'd heard of in Midwest Legends), and I attended as her guest. Thank you Nina for introducing me into the world of sex parties in San Francisco.

Here is the text of that (lengthy) interview I conducted with Nina Hartley, in September 2001. We discuss anal sex, and Nina gives me the incredible quote: "You must earn butt. You cannot be just given butt.".

Thank you Nina.

Play List

LIVE IN THE STUDIO: interview with My Last Day On Earth

A Million Miles Away: Peter Case (

Live

at The Henry Miller Library, August 19 - a Lady Monster

exclusive

)
Oubliette: My Last Day On Earth (demo)
Afghan Whigs: Brother Sister (by request from MLDOE)
Revenge: Charles Mingus (Live in Paris) -partial track
Flight of the Enola Gay: My Last Day On Earth (demo)
Hama: BORIS (Amplifier Worship)
-partial track
Submerge: Come (eleven:eleven)
only shallow: My Bloody Valentine (loveless)
Sex Shooter: Nora Breanne
Revolting Cock Au Lait: Revolting Cocks (Cocked and Loaded)
Seven: Karma To Burn (Wild and Wonderful West Virginia 10")

Two Tigers Mating: Dana Brown
Stand By Your Man: Wendy O'Williams and Lemmy (1982 7")
Sex Machine, Take It Off: Sex and The 60s comp
All You Think About Is Sex: Sparks (In Outer Space)

INTERVIEW WITH
NINA HARTLEY (part one)

She's All That (and A Bag of Potato Chips): Andre Williams (Red Dirt)
- AACCK!! The Podcast got cut off!!
Click here to continue this song, the interview with Nina Hartley and another hour of the Lair of Lady Monster.


INTERVIEW WITH
NINA HARTLEY (part two)

Boogie Nights: Heat Wave (Boogie Nights - EP)
Feel Like Makin' Love: Roberta Flack (Feel Like Makin' Love)
Go Slow: Julie London (Make Love To Me)
It's Only Love Doing Its Thing: Barry White (The Man EP)

Let's Get It On: Marvin Gaye (The Very Best of Marvin Gaye)
Take It Off: Genteels (Las Vegas Grind: Crypt comp)
- ooh so sad to find that big huge gouge...
Let's Go Crazy: Prince (Purple Rain soundtrack)
Beaver Shot: The Periscopes (Louie's Limbo Lounge: Crypt comp)
Give It To Me: The Patsys (Both Sides Never)
Give It Up: Candy Snatchers (This Is Rock and Roll)

You and Me: Easy Action (Reptilian Records)
Candy: Candye Kane (Swango)
Tune in next week when I will be interviewing
Candye Kane
. She is currently touring, supporting her new record,
Guitar'd and Feather'd
.

As a side note, I would like to thank SWIRL (Sex Worker Internet Radio Lounge) for their continued support for sex workers and the broadcasting they provide, with information about and projects by sex workers. You can listen to my stories about Phone Sex and Legal Escort work in their programming.
Enter the website and click "TO LISTEN TO SWIRL CLICK HERE". They are accepting donations for continued broadcasting pleasure too.