Wow, what a month this is turning out to be.
Thanks to all of my friends for their support and cheering me on.
First up, I am very excited to announce that
STUCK
, a women's prison film noir by Steve Balderson has it's WORLD PREMIERE at the Raindance Film Festival in London (UK).
BOOK TICKETS NOW
Steve Balderson, Susan Traylor, Starina Johnson, Stacy Cunningham, and Pleasant Gehman will be in attendance.
Here is the trailer:
The movie is also showing:
Oct 15 Albuquerque CLOSING NIGHT FILM
Southwest GLBT Film Festival
Mink Stole, Jane Wiedlin, Frankie Krainz in attendance
KiMo Theatre
423 Central Ave. NW (at Fifth St. & Central)
Albuquerque, NM 87102
Showtime: 7 PM
Oct 24 Seattle
Seattle GLBT Film Festival
The Admiral Theater
Showtime: 4:30 PM
Nov 6 Chicago
REELING: Chicago GLBT Film Festival
Landmark Cinemas (theatre 7)
Showtime: 7 PM
I WILL BE ATTENDING THIS SCREENING!
I play the part of "The Laughing Girl" in a scene with the legendary Karen Black.
Steve Balderson's film from last year,
Watch Out
, will be released on DVD on MY BIRTHDAY! November 24th! Pre-Order your copy now.
http://www.dikenga.com/films/watchout/
In other movie news, I will be playing the part of FIREBALL in the feature-length film,
FEED by LuxKillmore
, currently in pre-production. Filming begins in November!!
There will be two upcoming fundraisers for FEED if you would like to help bring this historic film to the screen. It is the first homosexual horror film (non-vampire)!
Or donate online
TV
Watch
KOFY-TV
(Channel 20/Cable 13 in the Bay Area) to see me as a Guest Host Finalist!
I taped my segments and they ARE NOW ON THE AIR! from 8am-3pm.
I am one of three contestants up for the grand prize of hosting shows on KOFY-TV for the month of November. Every other month they bring in a new Guest Host for their daytime programming. I submitted a video and VOILA! got picked. Now it's just up to their viewers who log in to
KOFYTV.COM
to vote for me as the best guest host! THANKS so much to everyone who has already voted! Winners are announced at the end of October.
Live on stage!
For performances check me out here:
Beer Bust FEED
SATURDAY, October 10th
TRUCK
. 3pm - 8pm
1900 Folsom St. San Francisco, CA 94103
10 bucks gets you all you can drink beer, raffle tickets, performance and a damn good time. Proceeds go to the production of
FEED
.
A Witches' Brew
Sunday, October 25
5pm - 8pm
The Stud, 399 9th Street (@ Harrison), San Francisco
Vintage Car Show! Live Music! Burlesque! and Vendors!
I will be your hostess with the moistest, um, Mostest!
This is a fundraiser for
FEED
.
http://www.myspace.com/awitchbrew
Saturday, Oct 29 2009
7:30 - 11:30pm
THRILLVILLE'S HALLOWEEN GORE 'N' SNOREFEST!
Balboa Theater, 3630 Balboa St. @ 38th Ave., San Francisco
Hosted by Will the Thrill and Monica Tiki Goddess
http://www.thrillville.net/
For the first (and probably last) time together - a double thrill chill kill bill of two notorious underground cult grindhouse favorites! Blood! Beasts! Burlesque! Gratuitous Nudity! Cults! Aliens! Live surf music! Snoring! What's missing? Only you if you don't make this crazy scene!
Fred Olen Ray's
HOLLYWOOD CHAINSAW HOOKERS (1988)
plus!
Larry Buchanan's
ZONTAR! THE THING FROM VENUS (1966)
with live music by
THE DEADLIES
and live tassel-twirlin' by
LADY MONSTER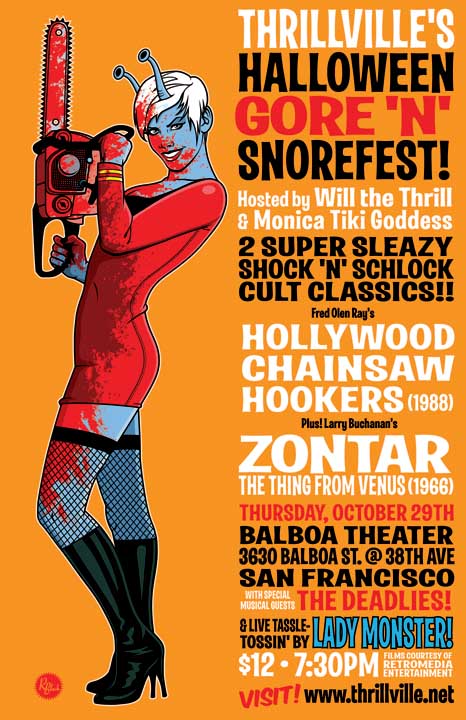 CHICAGO SHOW!!
Vaudezilla!
Saturday, November 7th
Reggies, 2105 S. State St, Chicago
$5 Cover to see all the ladies of Vaudezilla strut their stuff in between bands like Velcro Lewis, Chylde, Admiral Of Black, and Township. Expect multiple high-energy, sexy numbers from Vaudezilla's Red Hot Annie, Wham Bam Pam, Donna Touch, Bonny Babs, Maria May I, and Barrett All. SPECIAL GUEST: Lady Monster - Queen of the Fire Tassels!