My special guests for this show were punk rock singer, writer, playwright: Jennifer Blowdryer

and
Dr. Lukki, the only current performer in burlesque with a PhD.

I met
Jennifer Blowdryer
(the original White Trash Debutante) a few years ago in San Francisco at the SleazeFest at Bottom of the Hill. She introduced me to the poetry reading scene by taking me to K'Vetch at Sadie's Flying Elephant. It was there that I met many others that have become such good friends and inspirations. Jennifer really showed me around town, gave me some great writing and fashion tips. Well, of course she did, she's also the authoress of books such as,
Good Advice for Young Trendy People of All Ages
and The Laziest Secretary In The World. It's great fun discussing being a Cougar (or Cougar-To-Be), what will give a guy a bad reputation, or trading off stories of dysfunction and survival with Jennifer. She's also working on a collection of 86'd stories, so if you've ever been kicked out of somewhere fabulous (or several dumps), or are the kickee of outsters, then contact
Jennifer
to be included.
Dr. Lukki
is a NYC-based burlesque performer/stripper/educator that I met at Miss Exotic World 2006 in Las Vegas. I watched her perform a number as the night sky, and was so inspired with this very pretty and exotic routine. An anomaly for a woman that has decided to portray hyper-feminine characters, skewed stereotypes and the laziest stripper for some of her routines. When I found out about her
Monster/Beauty Continuum
, I found a kindred spirit in the tenets surrounding my moniker. I continue to be inspired by this academic bombshell, and am very happy to have a chance to sit and chat. D'OH! I can't believe I didn't play Hot For Teacher with all my rah-rah drooling happiness over getting tickets to see Van Halen this fall.
Play List

Apache
: The Shadows (

The Shadows To The Fore

7")

Sophisticated Lady
: Julie London (

Sophisticated Lady

)

No Excuses
: Lydia Lunch (7")

Avalanche
: Leonard Cohen (

Songs of Love and Hate

)

Light Up The Sky
: Van Halen (

Van Halen II

)

Mr. Lucky
: Henry Mancini (

Mr. Lucky

soundtrack)
Dr. Lukki
interview



You'd Be Surprised
: Marilyn Monroe (

Very Best of Marilyn Monroe

)

Super Kitten
: Connie Cato (7")

You Stole My Camera
:
Jennifer Blowdryer
Jennifer Blowdryer joins me in the studio.


I Should Have Killed You

:
DeadBolt
(thanks Jennifer for bringing this)
The Alien Song

: Red Aunts with Exene Cervenka


East Village Girls
:
Jennifer Blowdryer
Age of Beauty
:
Jennifer Blowdryer

Vote Fucker Breaker: Lady Monster


Season of the Witch: Donovan


She Speaks With A Vulgar Tongue

: The Upper Crust (

Entitled

)
Daddy (
thanks Jennifer for bringing this
, I'm not sure of the song or album title)


Tune in next week when I will be interviewing:
1. Satan's Angel – The Devil's Own Mistress – Coming straight from winning First Place on the America's Most Outrageous Talent contest on the Maury Povich show. She will be teaching a fire tassel twirling workshop at Tease-O-Rama 2007, in addition to performing and speaking at the Legends Panel. She is a Bay Area native, and now lives in Phoenix.
Get your tickets to see the hottest act in burlesque!
2. Baby Doe – producer of Tease-O-Rama and The Devil-ettes
3. Kitten on the Keys - MC of Tease-O-Rama, Ultra Cutie Pie/Chanteuse Deluxe
Feel free to call into the studio with questions or requests: 415-626-6180.
Here is a picture of me and Satan's Angel at the last Tease-O-Rama in 2005.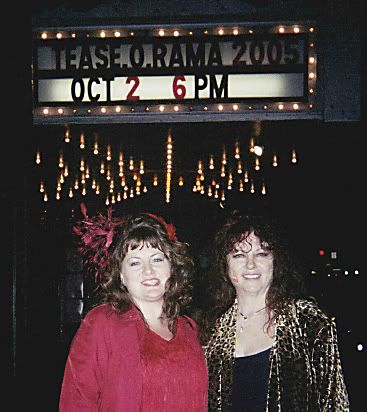 Click here to get your tickets for Tease-O-Rama NOW!!